Accessoires
Creaktiv Systems Airfield Equalizer
Kemp Elektroniks heeft zich altijd bezig gehouden met schone stroomvoorziening. Echter, sinds kort profileren wij ons ook op het gebied van electrosmog. Onze partner in deze is Creaktiv Systems. Samen met de Duitse marktleider op dit gebied Gabriel Technologie hebben zij een reeks producten ontwikkeld die een zeer gunstige uitwerking blijken te hebben op de beleving van muziek en beeld. Niet zo vreemd, omdat Gabriel Technologie in de gezondheidszorg reeds naam heeft gemaakt met het ontwikkelen van producten die electrosensibele mensen moeten helpen in onze door elektrosmog vervuilde leefomgeving.
Fors gereduceerde electrosmog in uw luisterruimte
Sterk verbeterde audio/video prestaties
Alle producten bevatten de ci2p technologie
De lokale werking van de informeringstechnologie wordt door de activeringstechnologie door de hele ruimte (tot 100 m²) verspreid. Zo kan een reductie tot 98 % van de elektrische velden in uw luisterruimte worden bereikt. Het resultaat: een duidelijk meer ruimtelijke en natuurlijke, kleurrijke weergave van audio en video.
De 2014 versie heeft een ci2p behandelde glazen voet. De netsteker (Power Plug Optimizer) is ook ci2p behandeld, waardoor het raadzaam is, deze in de verdeeldoos van uw set te steken zodat uw set meeprofiteert. De lichtbron is een LED lamp in een 25 cm hoge matglazen kolom. U heeft de keus uit 16 kleuren (waarvan lichtblauw de meest effectieve is) of roterend in alle kleuren van de regenboog d.m.v. een afstandbediening. Het verbruik is verwaarloosbaar (slechts 3 Watt) en de gemiddelde levensduur van de lamp is 25.000 uur.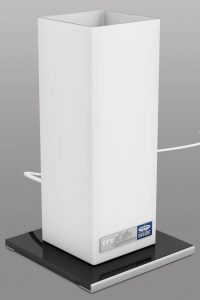 € 380,00
Creaktiv Systems
Uw audio/video installatie presteert slechts zo goed als zijn voeding. Toepassing op de groepenkast, zekeringhouders, verdeeldozen en eindversterkers. Plaatsing: zo dicht mogelijk bij zekeringen, net-entrees en transformatoren. Afmetingen: 52×32 mm.
Zonder twijfel de meest effectieve chip van Creaktiv Systems. Elke audio/video installatie zal hierdoor flink verbeterd worden.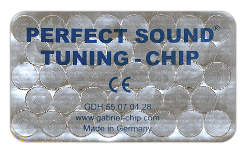 € 60,00
Acoustic Revive RD-3
Demagnetize your CD in tens of seconds
Improves all optical discs (sound as well as vision)
Successor of the classic Furutech RD-2
Excellent price performance ratio
Dimensions 198x160x56 mm
€ 525,00
Synergistic Research HFT
About the size of a shirt button, yet powerful enough to transform the way you experience music, HFTs improve nearly all aspects of system and room performance. With HFTs your speakers and room disappear leaving you with nothing but a live holographic musical event in your listening room, or living room. HFTs oscillate at high frequencies creating an energy field in your room that overpowers room vibrational distortions to correct phase and frequency interactions for harmonic balance in your treated room. You hear an increase in depth and width, with clearer more extended highs, and tighter bass. Everything sounds more live, clearer, and more natural than you could ever imagine.
The sound of your listening room is made up of hundreds if not thousands of vibrating surfaces – all reacting to the energy your stereo system creates. Each piece of furniture, your walls, your ceiling, equipment racks, glass windows, light fixtures, knick knacks and even your speaker cabinets and the enclosures of your components all vibrate and resonate out of tune with the music. Think of it this way: your room and its furniture are like one big instrument with 500 strings. Every time your speakers create a note these strings are being excited – and that's the problem, not one of those 500 strings are in tune. The fact is, they are all resonating out of tune – distorting your music. The resonance of your listening room is literally pushing back on your sound stage, compressing the air and decay of notes and distorting fundamental harmonics in your favorite music. .
HFT
A new answer. HFTs are tiny high frequency transducers that clean up high frequency harmonics in your listening room. You see, harmonics are interconnected, so when you affect harmonics – even those beyond the limits of human hearing – you also affect lower frequency harmonics you can hear. HFTs literally cancel harmonic noise on any surface they are placed on. Simply follow our easy placement guidelines, 5 HFTs at a time, to systematically overcome your room's tendency to fight with the music your system is trying to recreate. HFTs replace random out-of-tune resonance with a sympathetic resonance that complements the music. Just 5 HFTs can affect a meaningful improvement to the average listening room, while additional HFT 5 and 10-packs improve your listening enjoyment further still until you ultimately bring your entire listening room in sync with the music.
High Frequency Transducer
Tiny devices with high impact
Applicable to nearly everything
Available in 3 versions: standard, 2.0 and X
Weight 0
Dimension 10×8 mm
Set van 5 stuks € 299,00
Synergistic research ECT Resonator
Electronic Circuit Transducer
Tiny devices with high impact
Cleans up high frequency noise
Lowers noise floor
Improves resolution
Significant increase in sound stage scale
Improved mid-range clarity
Enhanced low frequency control
Applicable to all kinds of electronic parts and chassis
Weight 0
Dimension 10×8 mm
Set van 5 stuks € 299,00
Synergistic Research MIG 2.0
Mechanical Interface Grounding component footers
Easy to install and highly effective
Available in 2 versions: MiG and MiG 2.0
Comes as a set of 3 pieces
Weight 82 g
Size Ø42×26 mm
Set van 3 stuks € 249,00
SSC String Suspension Concept
SSC Netpoint 100 Black / Tight web-element made in astrong SSC housing, the string webbing is integrated into the Sandwich construction of the devices. for audiocomponents, with protective felt on top- aluminium casing. Set van 4 stuks € 99,00
SSC Netpoint 200 Black / Same technology used, but with a screw top plate, including M4- M6- M8 screw adaptors for loudspeakers inserts – aluminiumcasing. Set van 4 stuks € 119,00
SSC Netpoint 300 Black / Same technology used, but with an aluminium top plate with a spike mould, ideal partner of loudspeakers using spikes- aluminium casing. Set van 4 stuks € 119,00
. Draagvermogen 4er Set: 60 kg
Hoogte Netpoint 100: 14 mm
Netpoint 200: 13 mm
Netpoint 300: 12 mm
Aluminiumbehuizing zwart en zilver
Doorsnee: 50 mm
SSC Magicpoint 100 Black / Air – Magnetic combination of two magnets with the SSC web-element, supports 15,0 kg per foot. Per stuk € 80,00
SSC Magicpoint 200 Black / Same technology used, but with a screw top plate, including M4- M6- M8 screw adaptors for loudspeakers inserts – aluminium casing. Per stuk € 85,00
SSC Magicpoint 300 Black / Same technology used, but with an aluminium top plate with a spike mould, ideal partner of lOud- speakers using spikes-aluminiumcasing. Per stuk € 85,00
SSC Liftpoint 1.6 Silver / Massive equipment feet particularly suited for a placement under turntables, amplifiers, subwoofers, or floor speakers which are operated in a hifi-rack or on ground. Including M6 and M8 threaded adaptors. Per stuk € 65,00
SSC Liftpoint 3.5 Silver / The solid design of this equipment feet does justice to top-class audio components, the SSC string tech- nology brings a better balance and more tranquility into the sound image, creating a even more detailed reproduction. Per stuk € 75,00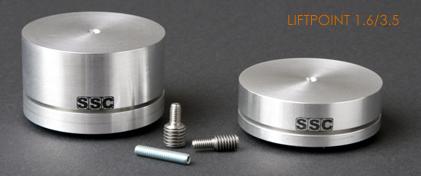 SSC Bigpoint Black / Bigpoint was developed especially for heavy HiFi components, high-end, amplifiers, mono blocks, speakers or subwoofers. SSC technology is embedded between the two aluminum discs.Alows 180 kg pressure on 4set Per stuk € 95,00
SSC BigMagicpoint Black / Top of the line 110 mm Big Magicpoint with string air magnetic technique – there are 3
Magicpoint inside one BigMagic. Each feet carries up to 60kg (that means 240 kg in a set of 4) Per stuk € 159,00
SSC Recordpoint SilverCamp TheSSC bearing weight integrate
SSC technology. The tracking process generates vibrations that spread all arround, installing the SSC suspension results in a more homogeneous sound image. 420gr Per stuk € 139,00
Soundcare
Soundcare maakt reeds decennia lang zeer innovatieve spikes. Spikes dragen bij aan beter geluid door de luidsprekers en audioapparatuur te ontkoppelen van de ondergrond, geen resonantie en meetrillen van zaken die er niet toe doen. Het geluid komt los en zweeft. Belangrijke eigenschap van deze Superspike is dat ze geen schade veroorzaken aan de ondergrond. Spike kunnen krassen en putjes geven, Sound care ontwikkelde de spike dusdanig dat de spike in een beschermende behuizing zit en er uitzien als een normaal voetje. Er zijn diverse uitvoeringen verkrijgbaar, voor zowel luidsprekers, met of zonder schroefdraad, als audio/video apparatuur.
Meest eenvoudige uitvoering van de SuperSpike, dé low-cost upgrade voor ieder systeem. Chroom/Zwart.
Spike 1 M6 versie, verpakt per 4 € 70,00
Spike 2 zelf plakkend, verpakt per 3 € 45,00
Spike 3 1/4" schroefdraad, verpakt per 4 € 70,00
Spike 4 M8 versie, verpakt per 4 € 70,00
Spike 5 5/16" schroefdraad, verpakt per 4 € 70,00
Adapterset van M6 naar M10 en van 1/4" naar 3/8", schroefbaar, verpakt per 4 € 25,00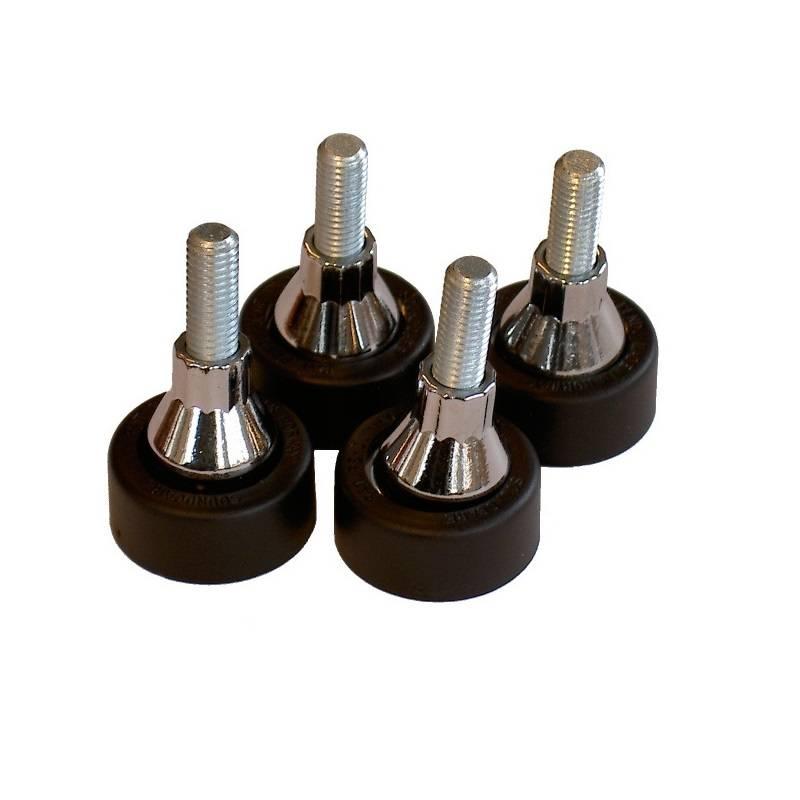 Music tools
Music Tools is a manufacturer of loudspeaker stands and modular shelves to optimize audio and video systems. Using the best materials and technical solutions that make good sounding and attractive products. All MUSIC TOOLS models are designed in Italy and all the components, the manufacturers and the assembly are realized in Italy.
Music Tools was founded in 1997 from two brothers Cristiano and Davide Bastianelli. Cristiano had been working in artistic glass manufacturing for home furniture in Pesaro which is an important district for furniture manufacturers. The second brother Davide had graduated as architecture at Politecnico of Milano University, he was working as house and furniture designer. Both of them loved music very much and they were very much interested in audiophile music reproduction. After several years they studied and designed loudspeakers stands and and special shelves dedicated to audio reproduction. In 1997 they decided to found the MUSIC TOOLS company. As the research and development of the products was very important, their audio room has a high level audio system and in that listening room all Music Tools products are tested.
Stream-line Spike Hull set van 4 omhulde kegels voor ontkoppeling € 290,00
Inakustik Premium demper
Zacht rubber demper doublette met chromen ring, set van 4 stuks € 39,00
Iso Acoustics
IsoAcoustics Inc. is een Canadees bedrijf dat sinds januari 2012 isolatie standaards voor luidsprekers produceert en distribueert. In deze relatief korte periode is IsoAcoustics snel gegroeid en verkoopt nu in meer dan 60 landen. IsoAcoustics luidspreker stands zijn gebouwd met een unieke, gepatenteerde isolatie technologie die ervoor zorgt dat elk contact met de ondergrond geëlimineerd wordt, zodat je authentiek, ongekleurd geluid kunt horen. Oftewel optimale geluidsweergave.
Omschrijving
De Gaia van IsoAcoustics is de perfecte spike voor plaatsing van elke topluidspreker. Deze gepatenteerde technologie zorgt voor de beste helderheid en openheid van het geluid voor vloerstaande speakers.
De Gaia I is voor zuilspeakers tot 100 kg. Ze worden geleverd per set van 4 stuks in een zeer luxe cassette die tevens diverse maten schroefdraad (M8, ¼-20 en M12)  en het benodigde gereedschap bevat voor montage aan elke luidspreker.
Per set € 739,00
De Gaia II is voor zuilspeakers tot 54 kg. Ze worden geleverd per set van 4 stuks in een zeer luxe cassette die tevens diverse maten schroefdraad (M8, M6 en ¼-20) en het benodigde gereedschap bevat voor montage aan elke luidspreker.
Per set € 349,00
De Gaia III is voor zuilspeakers tot 32 kg. Ze worden geleverd per set van 4 stuks in een zeer luxe cassette die tevens diverse maten schroefdraad (M8, M6 en ¼-20) en het benodigde gereedschap bevat voor montage aan elke luidspreker.
Per set € 249,00
Wanneer je een luidspreker hebt met een andere maat schroefdraad, zijn er diverse verloop stukjes leverbaar.
IsoAcoustics levert nu ook isolators, ontkoppelaars, voor audio-apparatuur, de OREA. De Orea Bordeaux heeft een draagvermogen tot 14 kg. Door de juiste gewichtsklasse en aantal isolators te kiezen kan ieder apparaat optimaal en trillingsvrij geplaatst worden. Door apparatuur mechanisch te ontkoppelen van andere onderdelen in het audiorack, worden storingen en ongewenste vibraties voorkomen voor een optimaal geluid. Een minimum van drie Orea's per apparaat is nodig voor een stabiele plaatsing. Orea wordt per stuk verkocht en geleverd in een prachtige verpakking.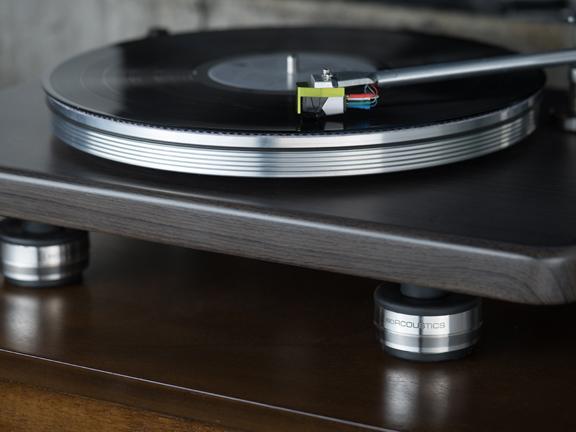 Oreo Bronze, tot 3 1/2kg Per stuk € 65,00
Oreo Indigo, tot 7 kg Per stuk € 79,00
Oreo Bordeaux, tot 14 kg Per stuk € 99,00
Met het plaatsen van een Aperta 100 van IsoAcoustics onder je zuilspeaker elimineer je alle trillingen die de luidspreker overdraagt aan zijn contactoppervlak en daarmee voorkom je elke kleuring en toevoeging aan de geluidsweergave.
IsoAcoustics is een grote en belangrijke speler als het gaat om akoestische verbeteringen en optimalisaties en past in de Aperta haar gepatenteerde floating design techniek toe. De Aperta 100 wordt per paar geleverd en kan speakers dragen tot 16 kg. Het draagoppervlak is 155×190 mm.
Aperta 100, Max. gewicht per luidspreker 16 kg Per paar € 249,00
Aperta 200, Max. gewicht per luidspreker 32 kg Per paar € 319,00
Aperta 300, Max. gewicht per luidspreker 32 kg Per stuk € 209,00
Aperta is in zwart en zilver verkrijgbaar.
Aperta 300 is voor centerluidsprekers.
Bamboo
Vibration control audio resonator system.
Elimineert trillingen.
Per blok € 15,00
Zilplex
You will be suprised when you integrate Zilplex with your audiosystem. Zilplex also can be used for improving the acoustic in general. It's a small investment for a big improvement and gives you the ultimate sound and space experience! Zilplex will astonish you.
All our Zilplex units are handmade. There are three different elements, Bass unit, Mid-high unit, Ceiling unit.
The benefits of the Zilplex system are:
– It gives a relaxing rest in space. (relaxed atmosphere)
– Soundstage width and height increased.
– Improved depth image containing more details.
– Instruments and voices are vivid and realistic, with a real timbre.
– Walls disappear.
– Music is experienced as in a concert hall with a fascinating liveliness floating around you.
A complete set consists of 7 x mid high unit, 3 x bass unit, 1 x ceiling unit, packed in a wooden box.
These 11 units in the whole are sufficient for every room, from small to large.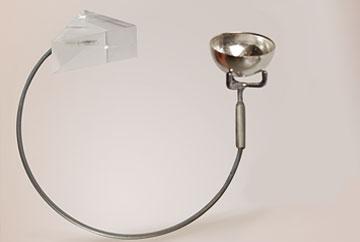 Duende Creatura buisringen
Wat kunt u verwachten bij het plaatsen van deze buisringen
Alles wordt beter: hogere detaillering in elk toonbereik, beter volgbare bas, grotere ruimtelijkheid, strakker laag. Maar geen ingesnoerd geluid, de losheid blijft.
Diameter
9    –    10 mm                       € 16,00
17,5 –  19 mm                      € 16,00
19,5 – 22 mm                      € 16,00
26   –  29 mm                      € 18,00
27,7  – 32 mm                     € 23,00
32   –   36 mm                     € 25,00
36   –   39 mm                     € 27,00
38   –   42 mm                     € 28,00
43   –   47 mm                     € 28,00
50   –  54 mm                     € 30,00
53   –  58 mm                     € 33,00
63   –  68 mm                     € 33,00 
Prijzen zijn per stuk, de verkoop eenheid gaan per 2 in een zakje
Music Tools fillin
Holle ruimtes kunnen gevuld worden met Fillin. Dit is speciaal door Music Tools vervaardigd dempingsmateriaal. Fillin is ook los verkrijgbaar voor het vullen van luidsprekerstandaards.                       7 kg verpakking € 55,00
Entreq
Wraps Infinity line. 
In the new Infinity wraps we use the same process of the metal as we use in the rest of our Infinity products.
And the improvment are not subbtle!
We think this is the most cost effective " tweak" you can buy..
€ 120,00