Occasions
Yamaha AX 396 versterker
Minimum RMS Output Power 8 Ω
20 Hz to 20 kHz, 0.019% THD 60W+60W
Maximum Output Power (EIAJ)
6Ω …………..110W
Dynamic Power (IHF)8/6/4/2Ω
100/120/140/150W
DIN Standard Output Power 4Ω
1 kHz, 0.7% THD) 95W
IEC Output Power (8Ω
1 kHz, 0.01 THD 75W
Power Band Width 8Ω
Half power, 0.04% THD ….. 10 Hz to 50 kHz
Finish: Titanium
€ 125,00
Yamaha CDX 396 CD-Speler
Specifications
Disc format: CD
Digital converter: MN35511AL CD Mechanism: KSS-213C
Frequency response: 2Hz to 20kHz
Dynamic range: 95dB
Total harmonic distortion: 0.003%
Signal to Noise Ratio: 105dB
Line output: 2V
Digital outputs: optical
Dimensions: 435 x 96 x 277mm
Weight: 3.7kg
Finish: titanium
€ 100,00
Yamaha TX 492 Tuner
RDS FM / AM ontvanger
75 Ohm antenne aansluiting
AM antenne aansluiting
Opslag voor 40 voorkeuze zenders
Finish: Titanium
€ 75,00
Myryad MXP 2000 voorversterker
The Myryad MXP2000 Stereo Preamplifier has been designed to deliver a combination of high quality sound reproduction and elegant styling. The MXP2000 can accept up to eight linelevel input sources, including two tape recorders. Two pairs of line outputs are provided to feed one or two stereo power amplifiers. All functions can be operated using the infrared remote control handset supplied. This remote can also control Myryad CD players, Tuners and DVD players.
 MXP2000/MXA2150 WHAT HI-FI? 4 STARS JUL '04
This is one of the most talented amplifier combinations below £3,000… The MXP2000/MXA2150 pairing can deliver huge dynamic swings effortlessly, bludgeoning speakers into submission with an ease that makes the 150 watt rating seem conservative. Love Holst's Mars? Wait till you hear it with this Myryad pairing in full flow, teamed with suitably capable source and speakers. And it's not just dynamics that impress, there's detail and drive, too. The tonal balance is a bit lean at the bass end, which emphasises the speed and articulation in the lower ranges; rarely do we come across an amp with so much grip in this region.
 MXP2000/MXA2150 HI-FI NEWS EXCLUSIVE REVIEW OCT '04
Outstanding immediacy and pace… Myryad's well conceived, beautifully realised designs have impressed consistently since the company was started in 1995…In use the pre-amp is a delight…This combination evinces a sense of complete control, with as near perfect transparency as I have heard…Few amplifiers are quite this cogent right across the spectrum, the bass fabulously well articulated (tight, secure, responsive), the midrange delicately portrayed, the top end wide open but with a winning confidence in sibilant detail…It's the sort of sound intuition tells you is true before you start to analyse it. There are no loose ends. Pick a naturally miked recording and you know from the start that the 'feel' of the image and its surrounding acoustic marry properly, you hear the natural decay of a big final chord remain perfectly focused as it dissolves into the acoustic. Many competing designs falter at the last, as the signal becomes inseparable from the residual system noise. Here the background is pitch black…Outstanding immediacy and pace make this combination the master of dynamic rock and pop, and the drive capabilities of the power amp made light of several speakers I had to hand…If I had to choose one word to sum up these units I'd opt for 'finesse'!…Rarely have I experienced an amplifier combination that so consistently combines delicacy and muscle to such notable effect.
Inputs: Line Direct, Tape, CD-R, CD, Tuner, TV, DVD, Aux
Input sensitivity (ref.1V output): 360mV (user trimmable 180-720mV)
Signal/Noise ratio: (A-weighted, ref 1V): >100dB
Frequency response: (20Hz – 20kHz) ±0.2dB (-1dB @ 96kHz)
Maximum output level: >8V
THD: (1kHz, 1V output) 0.003% typical
Dimensions (WxHxD): 436 x 95 x 343mm
Weight (net): 7.0 kg
Finishes : Satin Black fascia with Black casing
€ 700,00
NAD C 660 CD-Recorder
Dual Deck (1 x playback; 1 x record) • Integrated HDCD
decoder • CD-Recordable (Audio disc)
and CD-ReWritable (Audio disc) • 4 x Dubbing Speed • Will play MP3 discs; up to
10 hours of music per disc • DSP IC for MP3 decoding, running "Fraunhofer" algorithms
• Built-in sample rate converter: all sample rates from 22 to 96kHz are accepted
• Record per track or entire CD • CD text recognition and dubbing
• CD deck will play unfinalised CD-R and CD-RW discs • 2 Optical and 2 Coaxial digital outputs
• 2 Optical (one on front panel) and 1 Coaxial digital inputs • Simultaneous and
Sequential playback of both decks • Audiophile-grade AKM ADC & DACs • Remote control
CD recorders have been available for some time but almost always, sound quality is pretty mediocre and making recordings is often a cumbersome and complicated affair. The NAD C660 Dual Deck Audio CD Recorder bucks the trend by offering excellent performance and easy, intuitive use. On top of that, the C660 will also play back MP3 encoded discs, making it
unique in the world. Bridging the gap: MP3 is a sound encoding format that allows for a good compromise between necessary storage space and sound quality: more than 10 hours of near-CD quality of music can be stored on a single CD. Until now, MP3 has been the exclusive preserve for the computer environment, but even if the ancillary equipment (a high quality audio system) connected to the PC is of good quality, the computer's own soundcard can prove to be a limiting factor. The NAD C660 allows for MP3 files to be played back from a CD offering vastly superior quality and ease-of-use compared to the computer counterpart.
Convenience: At first glance it seems to make sense to connect an existing CD player to a
single CD recorder. But this can impede both sound quality and ease-of use. Thanks to the integration of a playback and record section, the C660 can copy up to 4 x the original speed. An entire typical CD can be copied in around 15 minutes without loss of quality! With no external cabling from a conventional CD player needed, quality is improved also. The C660
will record onto both CD-R (one time recording only) and CD-RW (erasable and re-recordable) audio discs. The created CD-R discs can be played back on most conventional CD players. Whether you are making a copy of an entire CD or a compilation of your
favourite music, making recordings is very easy. Select individual track recording by programming the ones you want to copy, or select to copy an entire disc at once. Apart from copying from CDs, you can also copy from external sources; for analogue sources an analogue input with audiophile quality A to D converter is provided whereas both an
pling frequencies ranging from 22kHz up to 96Khz. The accurate Sample optical and coaxial digital input is provided. Both digital inputs will accept sources with sam-Rate converter inside the C660 will bring the sample rate to 44.1kHz, as used with conventional CDs. An additional optical input is directly available on the front panel for quick and easy connection of portable players. A digital level control is incorporated to allow levels to be trimmed whilst
dubbing discs so that levels can be equalised between tracks. For CD-Rs and CD-RWs to be compatible with a normal CD player, they must be "finalised" after recording, but once finalisation has taken place nothing can be added or deleted, even if the disc has ample capacity left. The C660 will also play "un-finalised" discs so you can add tracks in multi-
ple recording sessions to make full use of the disc's capacity and still be able to listen to it in between recording sessions. Sequential play for both the playback and record section means you can regard the C660 as a 2-disc CD changer. Furthermore, with its MP3 play-back capability, you can have in excess of 20 hours of uninterrupted music without ever hearing the same track twice. The Random and Repeat Play facilities can be used with both conventional CDs and MP3 discs. Besides sequential play, you can even use each section of the C660 separately to play back one CD in one room and the other in another room making
Simultaneous Play ideal for multi-zone custom installed systems. The supplied remote control allows you to operate the C660 from the comfort of your listening position. Performance:
Besides convenience, one of the major advantages of integrating the playback and record section into one player, is performance: Both sections run off the same master clock reducing timing errors, known as jitter, to negligible levels. Using a separate CD player and recorder can introduce large amounts of jitter, negatively impacting sound quality. As one would expect from NAD, particular care has been taken for all audio related circuitry. The ADC (Analogue to Digital converter) from AKM with its 20 bit resolution and differential input assures that conversion
from analogue to digital is done without any noticeable loss of quality. The Digital to Analogue converter, also from renowned manufacturer AKM, has full 24-bit resolution and is normally found in CD players with high-end aspirations. High quality 5532 op-amps and metal film resistors are used instead of the much lower grades and types normally found at this price level and higher. Instead of using inexpensive "all-in-one" ICs for MP3 playback (MP3 decoding, D to A conversion and analogue circuitry), the C660 uses a dedicated Digital Signal Processor (DSP) for MP3 decoding, using the "Fraunhofer" decoding algorithms, universally regarded as the best sounding encoding and decoding engine. From here, the MP3 signal follows the same route as with normal CDs through the AKM DACs and associated cir-
cuitry as described above. The NAD C660 can fulfil multiple roles: recorder, copier, CD play-back, and in excess of 20 hours of continuous MP3 music for background listening.
That the C660 can fulfil all these roles with a sound quality normally reserved for up-market conventional CD players, makes it an obvious choice, regardless if you're looking to upgrade your existing CD player or for a recorder.
PROVISIONAL SPECIFICATIONS – NAD C660
Audio
Frequency response (digital in) 2Hz – 20.05kHz
Playback signal/noise 105dB
Playback dynamic range 105dB
Playback total harmonic distortion 0.005%
Recording signal/noise (analogue) 91dB
Recording dynamic range 91dB
Recording total harmonic distortion 0.005%
Headphones
Digital coaxial input (direct recording) 32kHz to 96kHz sampling rate
Digital optical input (direct recording) 32kHz to 96kHz sampling rate
Analogue input (level potentiometer) 330mV rms/50kΩ = 0 dB
Line output voltage 2 Vrms +/- 2 dB
Digital coaxial output 0.5 Vpp/75 Ω
General Compatible with CD, (Audio) CD-R, (Audio) CD-RW, MP3
Recording speed (max) x1 x2 x4
Power consumption 28W
Physical Specifications Dimensions (W x H x D) (435 x 95 x 300mm)
Net weight 5.8kg
Shipping weight 7.0kg
* Some conventional CD players may experience problems playing back CD-R and in particular CD-RW audio discs.

€ 200,00
Heco Victa 300 Anniversary

RMS vermogen 80 / 140 Watt
4 – 8 Ohm
34 – 38000 Hz
230 x 345 x 305 mm
Per stel € 175,00
PIONEER pl480 platenspeler
Half automatisch
Heeft nieuwe naald
Speelt goed
Conditie: gebruiks sporen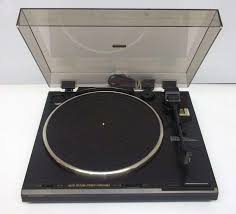 € 95,00